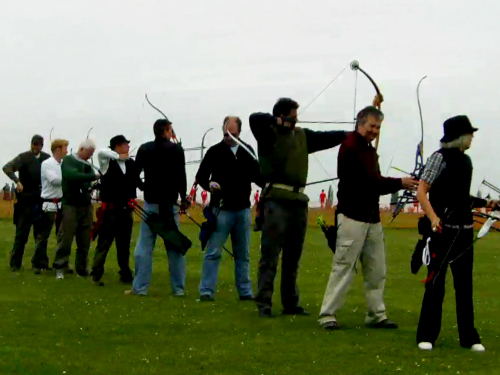 About Epping Archers

The Epping Archers club was established in 1973 and in spite of having to find alternative premises on several occasions has managed to remain active in the Epping/Harlow area of Essex for more than 40 years.

In October 2007, the club was the 4th archery club to achieve archery specific Club Mark status. This is an initiative by Sport England to provide a cross sport quality accreditation scheme for clubs with junior sections. The requirement is for clubs to comply with minimum operating standards in four areas: the playing or participation programme; duty of care and child protection; sports equity and ethics; club management. Due to circumstances beyond our control, we can no longer hold Club Mark status but we do adhere to the principles.

The Seniors (those over 18) meet for indoor shooting in the Great Parndon Community Association's Abercrombie Centre, Abercrombie Way, Harlow, on Monday evenings from 8:15 pm to 10:15 pm throughout the year.

The Juniors also shoot at the Abercrombie Centre on Mondays from 6:15 pm to 7:45 pm.

The outdoor shooting range is on North Weald airfield. This is where we hold our outdoor competitions on Sunday mornings during the summer. Our agreement with the local council allows us to shoot there throughout the year (except on certain event days) and a few hardy souls continue to use it on fine days during the winter.We run regular beginners courses for new members in both the senior and junior clubs. Qualified club coaches supervise the juniors.
---
Governance
Epping Archers is affiliated to Archery GB our National Governing Body and complies with Archery GB's policies on Safeguarding, HSE, Equality, Disciplinary, Volunteers, along with Codes of Conduct, Code of Ethics, and Duty of Care.
The above list covers the main items but there are other items which affiliation requires the club to comply with.